Update on sailing…
After I've gotten over my original and initial WWE immediate charge, (That's an actual medical term for a guy over 20. It happens when we see automobiles, hunting dogs, firearms, hot babes, sailboats… you getting the picture? Adventure, fury, fighting the elements, etc.) I learned the game of Go. I'm a permanent lifetime student because you perfect that which is in yourself to calculate the future. It's that simple. It's a habit you can only perfect if you practice it over and over. Let's look at sailing in 2050…
I know somebody that just had a little girl and when that little girl is 30 years old, there isn't going to be a Miami as we know it, no New York City, no Selma, Alabama, no London, no Yokohama Bay, no Boston Harbor, no Battery Park. The water may not be to the building tops but there aren't going to be any beaches. Venice, Italy already floods up to your knees 4 or more times a year. New water levels paired with the rising cost of fuel and its lack of availability will change our way of transportation.
Let's talk about a cup of coffee too because in 2050 there will be less than half of the coffee crops there are today. It takes up too much water, requires too many people, has a huge environmental imprint and there won't be enough land to grow it. There will be four times as many people and half as much coffee that's available today. How much is coffee now going to cost? That will be our basic energy resource. Every energy source after that falls apart: gas, wind and solar.
With water levels rising how will we navigate the new third of the world that will be flooded? The ice caps will have successfully melted themselves with our assistance by the time that little girl is 30 years old. Are you really going to do it like they do on "Wicked Tuna" and fill up your boat tanks to gas out to your job? Highly unlikely since the cost of fuel will cost more than your cup of coffee. If you have even a dime's worth of fuel, you're going to save it for an emergency. A DIRE emergency like powering up your cell phone in order to call a helicopter if there's one even remotely near to you. Anybody who's been through Hurricane Katrina knows I'm not kidding around. Anybody who lives in New York knows I'm not kidding either.
Do I believe the idea that a huge flood is on its way right now? No. The salt water is eating away at the basements of The Fontainebleau Hotel and The Raleigh Hotel. My mom was pregnant with me in 1954 and stayed at The Raleigh Hotel with my Grandmother. I stayed at The Raleigh Hotel for a couple summers too. It's great and… it's going to be gone. How will you get from there up to the injured bird sanctuary an hour inland? (That was my charitable contribution. I said "I'm not going to give money. I'll lend my muscle…" and I shoveled pelican shit.) That's where you're finally going to step on some little spit of land if you're heading from Miami or South Beach. This is why sailing is going to take absolute precedence over any other form of conveyance in the littoral areas of the entire earth. The beach, the cay, the bay, the lagoon, all that is going to completely change. If you dug the lagoon before, you're going to LOVE IT in 50 years because it's going to be about eight feet higher and there will be two miles more of it in all fucking directions.
How do you get from here to there? Do you fly? Well… not unless you're a millionaire who lives in the high country of Colorado. Are you taking a train? I love comedy, but not now… You're going to sail and it's not going to be powered by fuel and it's not going to be solar powered (though your kitchen will be). The sailboat itself is going to look a lot like the AC72 that's fighting for first place up in San Francisco. Sailing will take on a fashion show sense. "I went and saw Gaultier. I could barely spell the name, much less reason out the Cirque du Soleil that you see on the runway," but from some of the whole collection you might go, "Oh, well that was a cool suit," "Those are nice shoes," "I'd wear glasses like that." That's what's happening with sailing right now.
Speed is taking precedence because that's the WWE, that's what my inner child is going to recognize. Everything we're learning about ultra high masts, composite materials and fast sailing is how you're going to get from Boston to South Carolina to Miami. If you wanna meet me in Houston, that's how you're getting there too. You're going to pack up the kid's wetsuits, buy some of my sunblock and set sail. The idea of my mom packing me up to take the train from Massachusetts to Chicago will be gone. Even if you have the kind of fuel to power a train, it got there by boat. If the fuel came from Cuba (because they still have some trees left), the boat went all the way to Colorado without stopping. All new waterways, all new water levels. I predict that what the steam train meant to this country 150 years ago is what sailing means to tomorrow.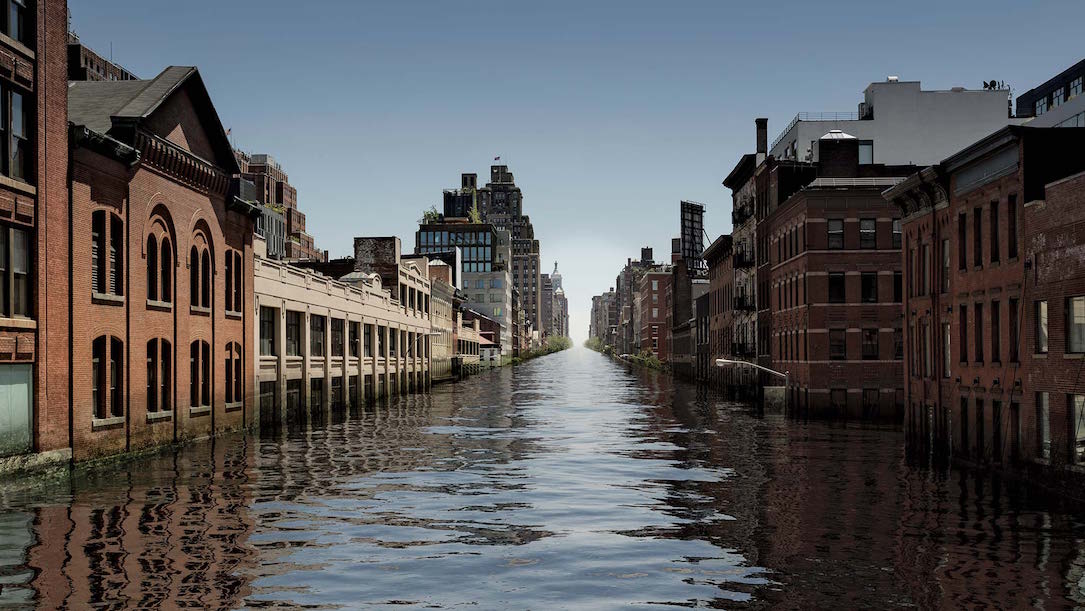 A speculative rendering showing what a hundred-year storm could briefly do to the Meatpacking District decades from now, when sea levels have risen several feet. Photo-Illustration: MDI Digital/Jonny Maxfield/Cultura Exclusive/Getty Images